Aqua-Air Wet/Dry Central Vacuums
Wall mounted central vacuum power units provide high volume dry vacuuming and quick drying wet extraction. Water rinse and cyclonic action separates the water, dirt, and debris without the restriction of filters. Waste tank automatically rinses and flushes all water and dirt down the drain. Central vacuum power units connect to multiple vacuum inlet/water outlet stations via water lines and vacuum tubing.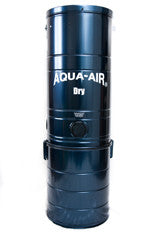 CALL FOR QUOTE! 5.7" Motor 725 Airwatts 133 CFM 15 amp 120 volts Ideal ...
Product Types
Best Sellers